Back To Blog
Electric gates have become a necessity nowadays with all the robberies going on. These gates can help in keeping your home safe and keep strangers away from your property. Sliding gates have been tipped by many experts as one of the best types of electric gates. There is absolutely nothing wrong with this assessment as the sliding gates definitely are among the best. However, there are a number of things that people need to keep in mind before choosing this type.
First of all, keep in mind that these gates are only suitable for those driveways that have a very smooth surface. The reason for this is that sliding gates have to slide on their tracks to open and close. If the surface on which the tracks are laid is uneven, the gate would not be able to slide open or shut. Therefore, if you plan on buying a sliding gate for your home, make sure that the entrance has a smooth surface.
How does it Work?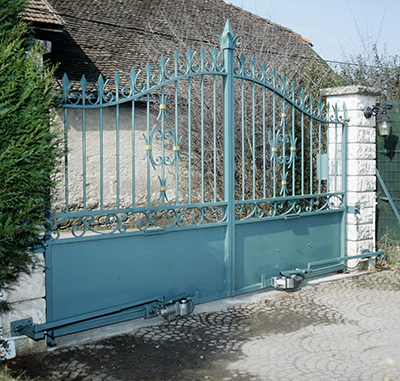 Sliding gates are composed of many different parts but some of them are more important than the others for its proper functioning. For instance, the sliding gate wheels are of prime importance to the sliding mechanism of the gate. Make sure that the sliding gate that you are purchasing has a set of wheels that are in perfect condition and don't have any imperfections.
The sliding gate safety sensor is another important part of the sliding gate that you need to check very carefully. The purpose of this sensor is to stop the gate from closing if anything is present in between the tracks. The sensor can detect the presence of anything of anyone on the tracks of the gate and stop it from closing, thus averting any accidents that might happen. Thus, it is important to ensure that this sensor is in good working order before buying the sliding gate.
You can always count on us at Gate Repair Garden Grove for the proper installation of your gate, as well as advice when it comes to what type of gate would suite your property and needs the most. For more information, give us a call or send us a message today.